Saturday, July 28th, 2012 at 5:42 am
If you walk through Japan at all you may wonder what all those huge boxes are that you pass along the sidewalks and in many doorways.  It's impossible not to notice these drink vending machines.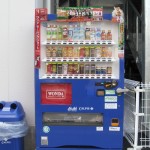 Often in sets of two or three, most blocks  in a city have at least one vending machine on them and those who live in suburbs always have a machine within walking distance.  The drinks are usually 100 yen to 150 yen, roughly $1.20 to $2 a drink depending on the yen rate that day.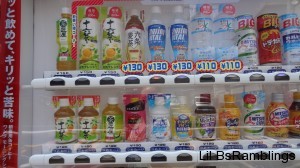 The drinks offered in the machines are anything from warm coffee to cold coffee to teas to juices.  I once saw a pancake breakfast in a can which was rather popular at work until they got removed from the one machine they were in.  I commonly see the creamed corn in a can so that must be good and their can of hot cocoa is delicious.  All the bottles in the picture above are cold drinks, they have blue prices, but hot drinks are available in most machines.  My favorite drink from a machine is the Apple Tea from Lipton.  It is very tasty and a treat I look forward to every time I leave Japan.