Saturday, July 21st, 2012 at 1:31 am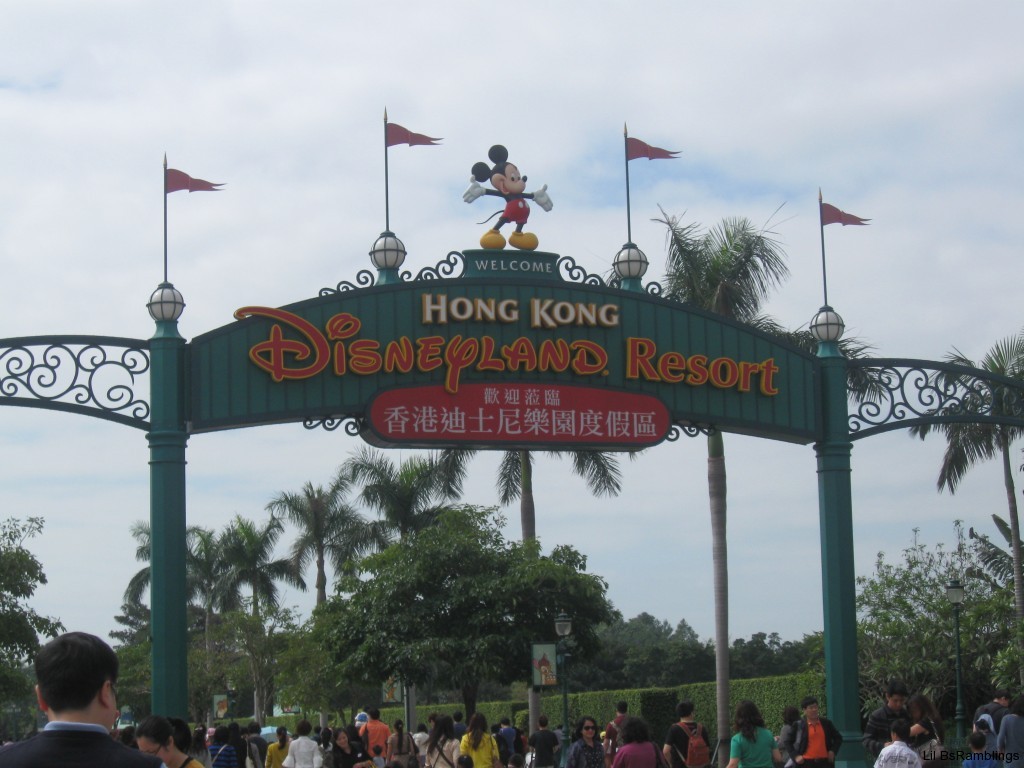 Here you leave today and enter the world of yesterday, tomorrow, and fantasy.
That is what the sign says that hangs above the walkway into Hong Kong Disneyland.  One of six Disney amusement parks in the world, it was the first one I had gone into and I had looked forward to the day since I had planned it with my friend a few days ahead.  We took the train through Hong Kong and got on the special Disney train  to the Disney station.  Once outside we stopped so my friend could smoke and I could put on sunscreen.  I had to work over the next few days and the last souvenir I wanted from my first trip to Disneyland was a painful and obvious sunburn.
Once we were set, we walked down a sidewalk lined with trees and lamp poles with flags of popular Disney characters rippling in the wind to a water fountain of Mickey Mouse surfing on the air leaving the air hole of a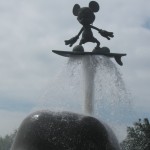 whale.  Other popular characters, like Donald Duck, held various poses in the courtyard.  After a few pictures we moved on to the entrance.  Having already bought our tickets, we skipped that line and went straight to the entrance line.  After the attendant searched my bag for dangerous items, we walked past the Mickey Mouse likeness made of flowers, and entered the park.  The first area we entered was the area designed to look like a town from the early 1900's.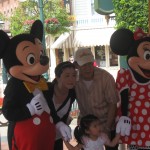 We passed Mickey and Minnie Mouse posing for pictures in a gazebo and windows of various Disney scenes, like Woody and his toy friends, and went to Tommorrowland.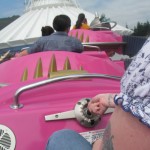 There we drove a flying saucer (okay, so it circled a giant sculptures of balls designed to look like planets and my friend pushed a button to move us up or down while I took pictures, but it's the closest I'll ever get) and helped Buzz Lightyear destroy his enemies on a ride where we shot at Zs among the characters lining the track.
After lunch we walked over to Fantasyland where we spun in teacups at the Mad Hatters Tea Party,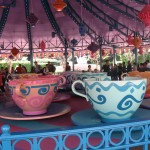 traveled the world in the It's A Small World After All ride,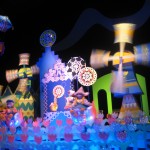 entered a book with Winnie the Pooh, took pictures with Mickey Mouse and Goofy,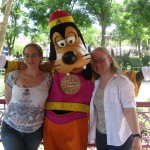 watched a magically disastrous preparation to a concert when Donald Duck tried to control Mickey Mouse's magician hat, and saw Cinderella and Tinkerbell through the crowds as well as Minnie Mouse, Winnie the Pooh, and Pinocchio.  After that we went back to the center of the park to watch the parade.  We saw Mickey Mouse and his gang on a float with a wooden ship that flew,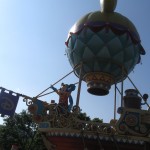 Winnie the Pooh in his honey jar with his friends walking around him, the Disney princesses on a swan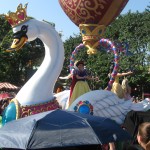 followed by a jungle of animals with monkeys playing on bungee lines,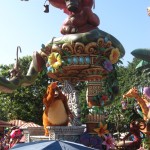 and Stitch surfing a massive wave high above our heads.  Then came the toys from Toy Story and TinkerBell.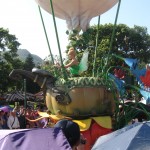 After the parade was over and the music had stopped, we walked over to the area where little green men kept everyone in line,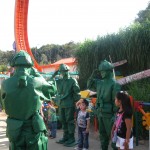 the area designed around Toy Story.  After watching the green army soldiers drill some visiting children, we went parachuting and rode the Slinky Dog as he tried to catch his tail.
After toy land, we went on a safari around Tarzan's tree house
before exploring his home where we ran into his tiger nemesis.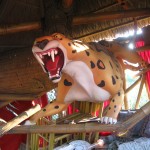 After supper we decided it had been a long day already and wandering for three hours before the fireworks didn't appeal to us.  With that in mind we headed for the train.  On the way we stopped at a gift store and found glass roses as well as a few animals for sale.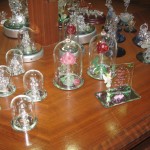 All in all, I enjoyed my first trip to a Disney Resort and am looking for when I can get to the two in Tokyo, Japan and all the ones back in the United States.  It was a delightful trip back into my childhood and a fun day with my friend.
Click here to view more of my pictures from Hong Kong Disneyland on my Flickr account.