Friday, July 12th, 2013 at 5:00 am
One last night out with my friends in Japan, a night to remember, and it all started with a long train ride and a meal at the Alice In Wonderland restaurant in Tokyo.  By the time we left there the three of us were all a little buzzed and relaxed.  I took out my train directions and we got from Ginza Station to Shibuya for the next part of our night with plenty of time.  Unfortunately the directions only got us to the station, not to the restaurant.  It took us nearly an hour to get to our restaurant since we walked a long ways down the street off the train station before we finally decided to as for directions.  We asked a few people before a cashier at a convenience store finally looked at the address and told us we had to walk nearly all the way back to the Shibuya train station before turning up the other main street in the area and walking a while to a side street.  Luckily it was only a block off the main street and the external decorations were obvious.  We made it to the building but couldn't figure out how to get to our restaurant.  We could see the lines for the other two restaurants (one below the ground floor, the other in an upper floor with a waiter calling reservations near an elevator) but couldn't see our entrance.  Finally we found some stairs but the door on that floor wouldn't open so we went back down and took an elevator to the second floor( a different elevator than the other restaurant).  We stepped out of  the elevator and saw this: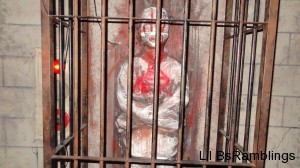 We had arrived at Alcatraz E.R., the original themed restaurant in Tokyo.  According to the sites I read, this prison-hospital themed restaurant is the success that started other themed restaurants, like the Alice In Wonderland restaurant we'd just left or the ninja place I had considered.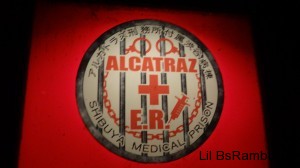 In order to open the door we had to press a button of our blood type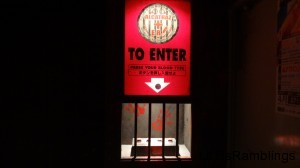 and were waited on by nurses and male orderlies.
Then we were led through the dark rooms, over "dead bodies"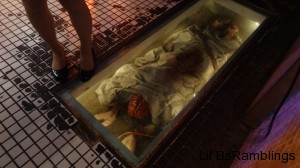 to a second floor "cell" to our table.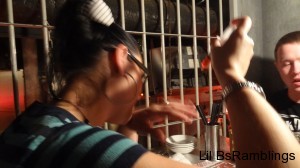 From there we looked at the amusing menu serving body parts as various foods (such as fried rice shaped like breasts) and drinks served in medical inspired instruments.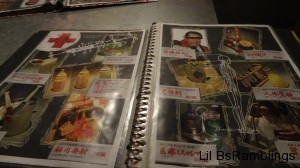 Since we'd already eaten at the Alice restaurant, we tried the drinks first while our appetizers were prepared.  John ordered a drink that came in beakers for him to mix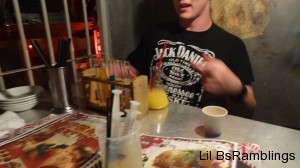 and I ordered a drink that came in a baby bottle that was more cream than alcohol.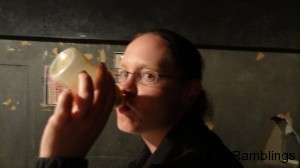 Jen ordered a drink that came in two syringes and a beaker of bubbly clear liquid.  An earlier picture shows her drinking one syringe and John drank the other one.  They were both pure alcohol of different colors while the beaker turned out to be flavorless soda.  We decided too late that we were supposed to mix the syringes of alcohol with the beaker to get a mixed drink.  Oh well, they enjoyed their colorful shots and our food arrived:


We ordered a fried chicken appetiser which was pretty good, a hotdog with no bun intended to look like a body part (which was amusing to play with but none of us could bring ourselves to eat it and I'll leave the pictures up to your imagination 🙂 ).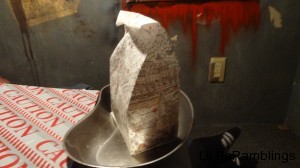 We also ordered a serving of fries that came in a bag we shook in order to add flavor. When the food came we all ordered a round of the beaker drink for each of us.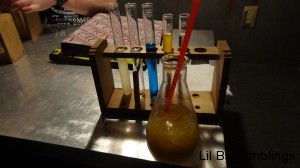 The drink turned out to be a beaker of orange juice, two or three beakers of alcohol shots, and the rest shots of juice for flavoring.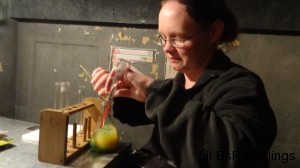 I mixed mine like a mad scientist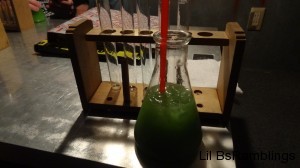 and the drink turned greenish into an odd tasting fuzzy navel-ish drink.  Not bad for a drink, rather bad if it was supposed to be a fuzzy navel.  🙂
While we enjoyed the atmosphere, the lights suddenly went out, a few red lights came on, and the nurses and orderlies came out with a birthday cake for someone.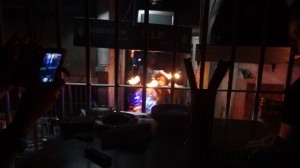 Jen said that one of the entertainments she had read that they do sometimes is that the lights go out and a "convict" escapes and sneaks around: jumping on bars and generally causing good-natured panic.  However, we didn't see that and it was soon time to leave
and take the train ride back to our places.  It was a fun night and we enjoyed the different themes we saw.  Both were fun but going to Alcatraz E.R. for drinks after the meal was a bad idea.  I would have had trouble finding food to make a full meal there (I'm slightly squeamish about eating body parts) but the drinks were not very strong.  We got there all kinda buzzed and all left sober even with the drinks we'd ordered.
All in all it was a great night with great friends that left me with memories I will treasure forever. (Along with some pictures I will laugh at forever.  Some pictures are so unique that you can instantly remember the joke of the moment.  They may be hard jokes to explain to others but yeah, I got a few of those that night.)  As y life sets up for yet another major life change, I hope that this is just one of many nights with good food, great memories, fun pictures, and most of all: great friends.