My Farewell Party, Part One!
Tuesday, June 25th, 2013 at 6:49 am
I knew I was leaving soon but I wanted one last party, one last night out with friends.  I had a problem deciding who to invite.  You see, I have a habit of having a few good friends, not a bunch of people to party with.  However, I also have a habit of hanging out with odd people, the ones that you love 'em or hate 'em and there isn't much in-between. So how do I figure out a group that could get along?  Finally I decided to go with my friends Jen and John and to quit fussing.  Jen, John, and I came to Japan within a few months of each other and had worked together for most of our stay.  Since I can reasonably say that I would have gone crazy a while ago if not for those two around to laugh with and at, I figured that  it would be fitting to finally hang out, just three of us.  We'd hung out with the rest of our coworkers a few times but that isn't quite the same thing as the three of us alone.
Now that the players were in place, I just needed to figure out what we would do and when.  Hm, where did I want one last memory of Japan?  As my thoughts drifted through my time in Japan, I kept getting drawn to a memory of a coworker talking about the odd restaurants in Tokyo.  He had moved away so I couldn't ask him to repeat the story so I did what everyone does when they have a question these days.  I Googled "themed restaurants in Tokyo".  I was rather surprised at how many popped up since my coworker had only mentioned one.  Well, I looked at a number of sites that reviewed various places and settled on three possibilities.  After talking to John and Jen, we decided to go to two of them in a night so the ninja restaurant was rejected and I made reservations for the other two for that Friday night.  (Patience.  I'll tell you which ones we went to.  Is the suspense killing you yet?  🙂 )
Friday arrived and our boss let us get off work early for our awesome night out.  (Okay, Jen convinced him that just this once he really didn't need all of us there since most of our workcenter weekly work goals had been met and he liked to let people off early for going away parties.  As much as work can be a pain, we have been lucky in our bosses over the past three years.)  We each headed to our houses to relax and get ready before we met at the local train station in the late afternoon.  It was a long ride to Ginza station in Tokyo and we were all excited since none of us had gotten to these restaurants before.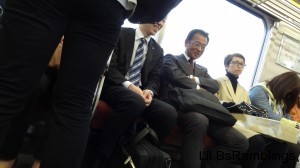 –>
These guys were across from us for much of the ride and found our antics, as we teased each other, amusing.  That or they enjoyed the conversation they were in and their jokes matched up with ours a lot.  🙂  We finally got to the Ginza station and went looking for the first restaurant.  And looking…and looking…Okay so we were probably only looking for about twenty minutes before we got in a cab…that drove us two blocks and said it was somewhere on that block.  Thanks guy.  We finally asked a teller at a convenience store on the block and she led us to a building that had the restaurant on one of the upper floors.  Thankful and just in time for the reservation, we took the elevator up and were met by this when the doors opened: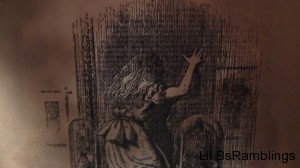 Did you catch who that was?  One guess, give up?  It was Alice and the theme of the restaurant was Alice in Wonderland.  Jen loves the Alice stories, I rather like them, and John was okay with them so it was our first stop.  We were led through a short maze of curtained booths to our booth.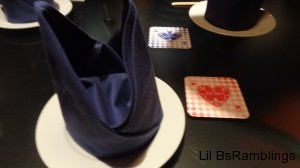 Soon it was time to order.  This shadow box was on the table while we looked at the menu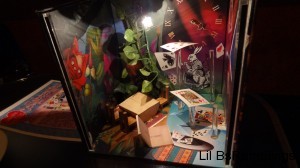 and the drink menu was a pop-up menu in Japanese.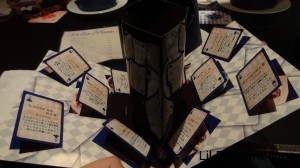 None of us can order in Japanese so we each pointed at a drink we thought looked cool and ordered a seven course meal (the food menu was in both English and Japanese but the seven course meal seemed easier than each getting al a cart dishes).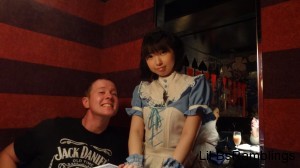 We were served by a girl in an Alice outfit and settled in for an hour or so of fun.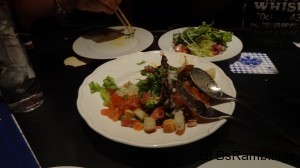 The first course was a big plate of salad of greens with dressing and croutons.  And yes, eating greens with chopsticks is rather interesting, at least for a beginner like me.  🙂
But I managed!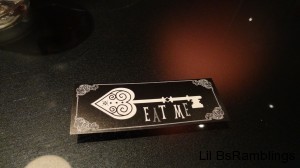 The next course was a soup course.  I don't remember much the creamy soup but I've never been a soup person.  However, the decoration on the plate with the soup amused me.  Needless to say, we obeyed!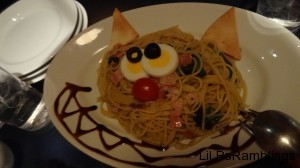 The next course was a Cheshire noodle dish with ham.  Tasted good and it amused us.  What more could anyone ask?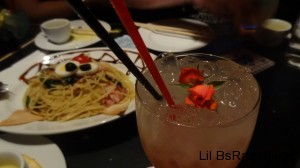 During the noodle dish my second drink came with roses on top.  I didn't drink the roses but I thought that they added a great deal of sight appeal to the tasty drink.  One thing we all agreed to was that the Alice restaurant had some awesome drinks (even if we had no clue what alcohol we were drinking 🙂 ).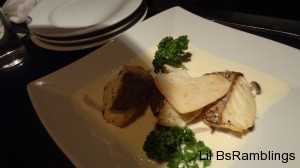 The next dish was a fish in cream sauce.  John and I shared this dish as Jen didn't like seafood.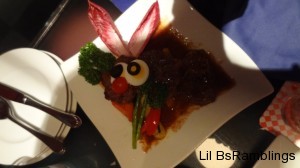 Our fifth course (of the main meal) was a beef dish designed like a rabbit and John and I let Jen have more of this one since she didn't eat the fish dish.  The last two dishes were desserts, YUM!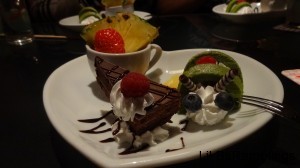 The first dessert was a chocolate pie, a green tea snail with whip cream, and a small bowl of fruit for each of us.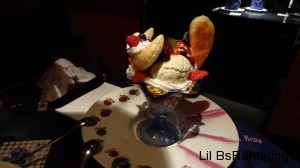 The last dish was a happy kitty as the Cheshire Cat bid us goodbye in ice cream and fruit.  YUMMY!
The food was done and we were feeling pretty good (like I said: the food was good,the company was fun, and the drinks were GOOD) so we paid our bill and headed to the next restaurant.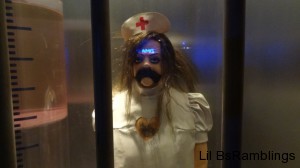 Can you guess what this restaurant is?
Tagged with: japan • traveling japan
Filed under: Japan
Like this post? Subscribe to my RSS feed and get loads more!