The Trip Begins!
Monday, July 15th, 2013 at 9:53 pm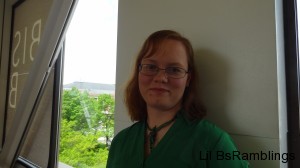 I left my house today to begin my summer trip to various cities in the United States before school starts in August.  Yes, I am finally going to college after six years traveling since high school.  (I'm trying not to think about being surrounded by the stereotypical ditsy female freshmen and hormonal male freshmen.  I'm keeping my fingers crossed that I can find some friends more my style but I know I need to broaden my horizons.  Yeah, not thinking about that yet.)
Anyway, I stayed up late packing (I know how hard it is for me to wake up so it is easier to get most done the night before) but still had to wake up at 8 am to finish my eggs at breakfast, do my last packing, a small amount of cleaning, go to the post office to check mail (I finally got a letter sent to Japan in May when I left), and went to Subway for a second breakfast so I could check my email.  I had an important meeting in the afternoon and I wanted to see if there were any changes.  There weren't so I didn't stay there long.  My brother and his girlfriend picked me up in northeast Wisconsin and we made it to my appointment near Milwaukee a little after 3 pm with a few stops.  After a late start to the meeting, we finished satisfactorily and we all went to meet up with my parents nearby.   My mom and dad, my older sister, my brother and his girlfriend, and I all went to a Mongolian barbeque place for supper and ice cream for dessert before everyone went to their homes.  My sister and I went into Milwaukee to our hotel where we are staying the night.  I will be waking up very early to get to the airport two hours before my flight and my sister will be staying in the room until she has to leave for her thing in Milwaukee in the morning.
All in all it was an amusing, if long, day and I will enjoy my bed, but it was good to see family again and begin my newest adventure.  What are you doing this week?
Tagged with: america cities • travel • traveling america
Filed under: Travels • U.S. Travels
Like this post? Subscribe to my RSS feed and get loads more!